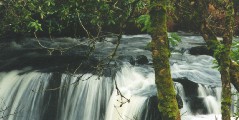 We invite you to make a 'Sacred Space', praying here and now, as you visit our website, with the help of the Gospel of the day and on-screen guidance.
Begin the Prayer

Consider making a donation to Sacred Space.
---
SOMETHING TO THINK AND PRAY ABOUT THIS WEEK
The Desert Experience
Often the important thing is being able to let go of unrealistic goals and expectations and instead be obedient to the reality in which we find ourselves. Being flexible, creative and making good decisions in the particular circumstances is harder than it sounds, as fixed plans, ideals and pre-set objectives can hold sway. Ignatian freedom is the letting go of these deceptive attachments in order to come to better decisions. 'Discretion is the better part of valour' or, in Ignatian language, discerning good decisions is being humble in the face of reality.
Excerpted from Brothers in Arms by Brendan McManus SJ (pp: 57-58)
---
We Remember At This Time…
We pray for all of those who lost their lives in the recent 6.8 magnitude earthquake in Morrocco, and the devastating floods in Libya. We remember all those who are still missing, all those displaced, and all of the families grieving the loss of their loved ones as well as of their homes and livelihoods. Lord, in your mercy, hear our prayer.
---
Sacred Space – Daily Prayer for 24 Years
Sacred Space began in 1999 and has offered new content every day since then. You can contact us on our Feedback page.
Sacred Space Feedback

---
More Sacred Space