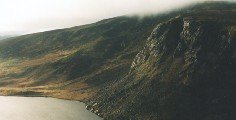 We invite you to make a 'Sacred Space', praying here and now, as you visit our website, with the help of the Gospel of the day and on-screen guidance.
Begin the Prayer

Consider making a donation to Sacred Space.
---
SOMETHING TO THINK AND PRAY ABOUT THIS WEEK
'The Spirit of the Lord shall rest on him' Isaiah 11:1–10
Things do not always work out the way we picture them. As Christians, we interpret this within the providence of God and seek to follow where we believe Christ leads. I would add to that a belief that where we take steps that are found later to have been clearly wrong, our Lord can and does call us from there into a new place. Such is his love for us that, no matter what, it never fails. Somehow, Life with Christ demonstrates this; redirection, when it comes, though we may think of it like the recalibration of a sat-nav, is more akin to a friend walking with us, sometimes gently guiding and occasionally bringing us up sharply to see our error.
Excerpted from Journeying to the Light: Daily Readings through Advent and Christmas by John Mann (p.9)
---
We Remember At This Time…
We pray for peace in our world, particularly during this season of Advent, as we await the Prince of Peace to come among us once again; we especially pray for peace in the Middle East, and in Ukraine. As we pray, we remember those who have lost their lives and their loved ones left behind. We remember all displaced peoples and all the poor and suffering of our world. May compassion and understanding triumph over hatred, violence and fear. Lord, in your mercy, hear our prayer.
---
Sacred Space – Daily Prayer for 24 Years
Sacred Space began in 1999 and has offered new content every day since then. You can contact us on our Feedback page.
Sacred Space Feedback

---
More Sacred Space